INITIATIVE 13 STORIES

Seattle Committee Against Thirteen (SCAT)
From the early 70s on there was a frothy stew of gay and lesbian advocacy groups in Seattle,
ranging from pragmatic to revolutionary. Among those with relevance to the I-13 struggle
were the Dorian Group, representing downtown business interests, and the Union of Sexual Minorities (USM), holding more radical positions and a significant cadre of socialist members.
When the Dorian Group announced its mostly low-key and top-down stance regarding the Initiative's filing, gays and lesbians further to the left felt spurred to launch a more assertive response. USM, meanwhile, had already participated in creating the Washington Coalition for Sexual Minority Rights (WCSMR), in anticipation of the right-wing backlash coming to the northwest. WCSMR was a statewide alliance including not only political entities but also service organizations like the Seattle Counseling Service and Gay Community Center. In March WCSMR called an emergency community meeting at the Capitol Hill United Methodist Church where the 300+ attendees voted overwhelmingly for visible and activist opposition to I-13.

The details were threshed out in smaller group meetings, resulting in the creation of Seattle Committee Against Thirteen (SCAT), and Women Against Thirteen (WAT). Both groups chose a working model of task-oriented committees moderated by a steering committee. Neither group designated a specific leader, sending a different speaker to each press conference, reasoning that the opposition would be unable to cripple an organization by targeting its prime spokesperson. Both groups believed that outreach to other oppressed groups was critical. SCAT and WAT endorsed NO votes on two other ballot measures: Seattle I-15, which would allow greater leeway for police in using deadly force; and statewide I-350, which would ban mandatory busing. Unfortunately, the latter two measures passed. SCAT and WAT joined forces on many activities and shared office space on Pike Street, but maintained separate identities.

SCAT activists began early, countering SOME's signature gatherers in public spaces by showing up to discourage voters from signing. They joined WAT members in a massive door-to-door canvassing effort in neighborhoods as disparate as Rainier Valley, U-District, and Queen Anne.

To directly engage the public as stakeholders in the debate, SCAT emphasized the myriad of ways that gay and lesbian people were already part of society -- as family members, as co-workers, and as friends. "Someone you know is gay" was one of the salient ad messages. That the vagueness of anti-gay stigmatizing also had ramifications for heterosexuals was another theme, since someone's perceived orientation did not have to be proven to cause harm. "But I'm not gay," an alarmed young woman announces in another ad. This type of messaging assumed a degree of tolerance already present in the city, something that more cautious gays had not yet taken as granted.

Two other visible players in opposing I-13 were the Freedom Socialist Party (FSP) and its affiliate, Radical Women (RW). Both had been supportive of gay and lesbian issues from their inception, rejecting the "bourgeois aberration" label traditional Marxism had espoused. However, some GL community members were wary of FSP's reputation for taking over single-issue causes and making them subservient to a sectarian agenda. Others were averse to party-line rhetoric in the messaging, for fear of putting off liberal and mainstream voters. Those who welcomed FSP/RW's presence admired their organizing skills and, in particular, their effectiveness in reaching out to People of Color.

SCAT and WAT's massive volunteer base were laser-focused on the immediate issue, and likely were not inclined toward partisan politicking. It was not a good recruiting ground for FSP. But individual FSP and RW members showed up in diligent support of the canvassing and other efforts, and continued to do so until the campaign's end.

In this section Dennis Raymond and Jerry DeGrieck discuss revolutionary zeal, guerilla tactics, and the differences between CREFE and SCAT's approaches. Tom Richards recalls encounters with signature gatherers and lessons learned about relating to opponents on a human level. And John Sheets goes into the specifics of SCAT's emergence from previous organizing efforts, and the sectarian politics that followed.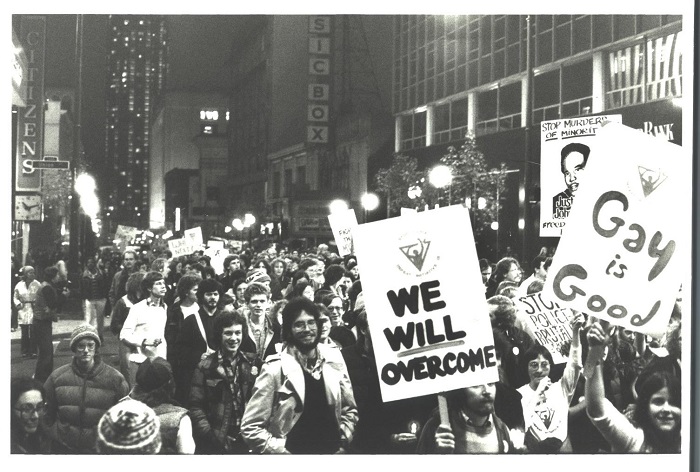 SCAT/WAT candlelignt victory celebration -- Freedom Socialist Party archives / courtesy of Doug Barnes



Seattle Committee Against Thirteen -- Contents
Oral Histories:
Dennis Raymond

Jerry DeGrieck

Tom Richards

John Sheets


Documents and Images:
SCAT print and bus advertisements

Canvassing material [to come]




I-13 Stories HOME